Who Are We?
Hope Crossing is a community of people who orient their lives around Jesus. Our desire is to be like him and to do the things that he did. His compassion moved him to help the hurting, heal the broken, and give hope to the hopeless. We want to follow his example in order to address those needs in our generation.
Our Mission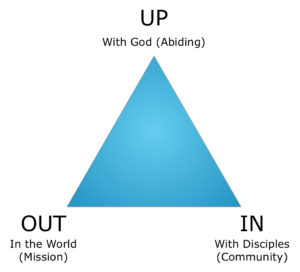 Our mission is to help people connect with God (UP), experience community with other Christ followers (IN), and serve the world in Jesus' name (OUT).
Our Heritage
We were established in 2014. But, that isn't the beginning of the story. Our ministry started in the 1954 when a group of German immigrants established a worship community for German speaking people. The second generation of our community was established in the 1990's as Dodge Park Church. Hope Crossing stands on the godly heritage of those faithful people who are committed to taking the hope of Jesus to the community.
We partner with a global movement of churches called the Church of God (Anderson).
Wisdom That Guides Us
"Hope does not disappoint, because the love of God has been poured out within our hearts through the Holy Spirit." – Romans 5:5
"Very truly I tell you, whoever hears my word and believes him who sent me has eternal life and will not be judged but has crossed over from death to life." – John 5:24
"But in your hearts revere Christ as Lord. Always be prepared to give an answer to everyone who asks you to give the reason for the hope that you have." – 1 Peter 3:15
Our Beliefs
We do not have a written creed that articulates all of our beliefs. Our movement has a long standing slogan that states "the Bible is our rule of faith."
There are, however, some distinctive understandings that we hold in common. Dr. Gilbert W. Stafford wrote about them in As Christians, Here We Stand.